La Macassar
Deluxe Twin Room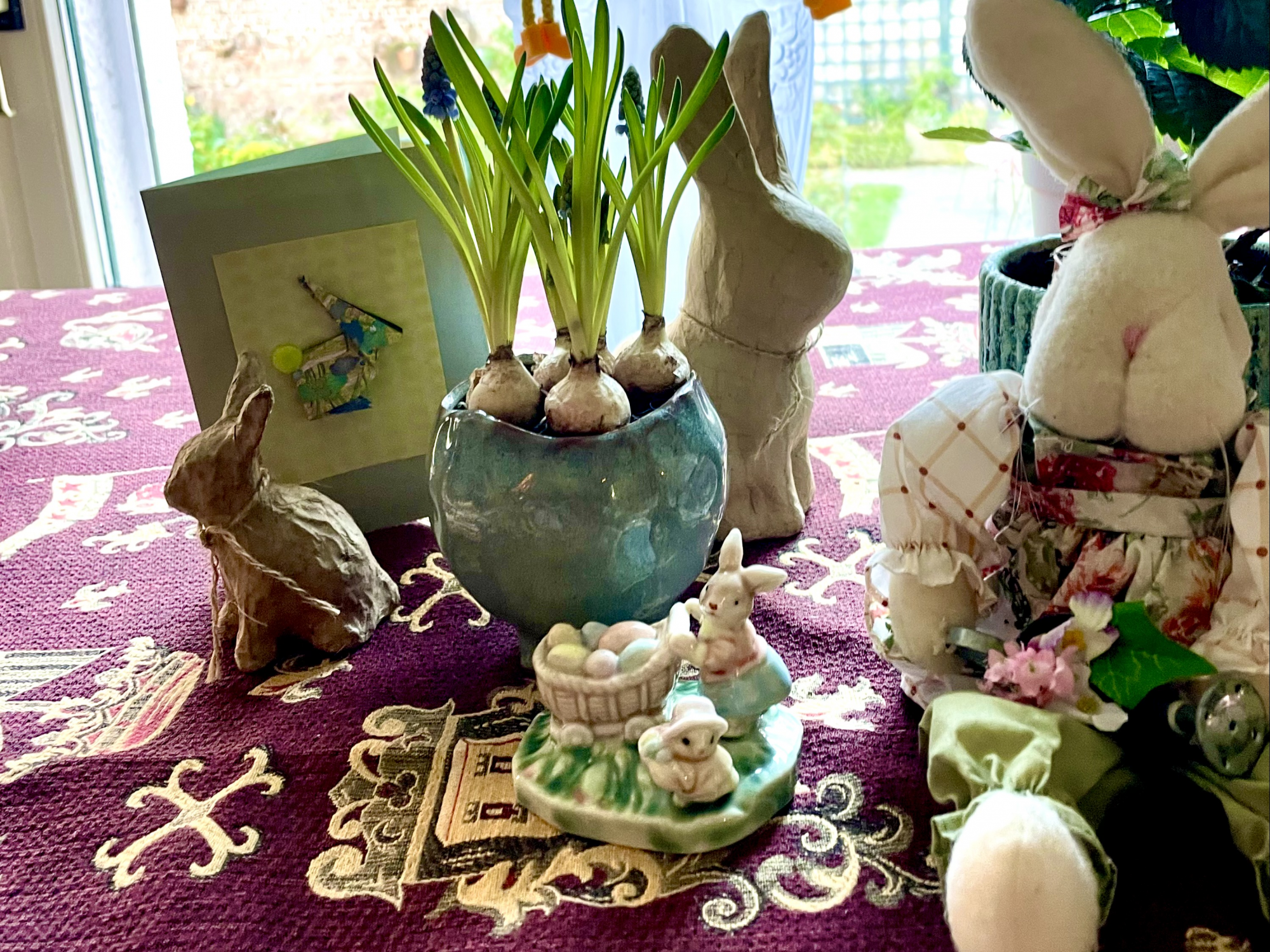 Two antique single beds in the twin room with a pair of matching chairs and original art.
The deluxe twin room (27 m2) shares a vestibule with the deluxe double room on the first level. The room is beautifully decorated with two antique single beds with French embroidered quilts atop our signature Egyptian cotton linens. There is a writing desk, small table, large wardrobe and two small armchairs in front of an ornate stone fireplace. The room has its own private washroom with a large walk-in multi-jet shower. The twin room is available from €219 a night.
Deluxe Double Room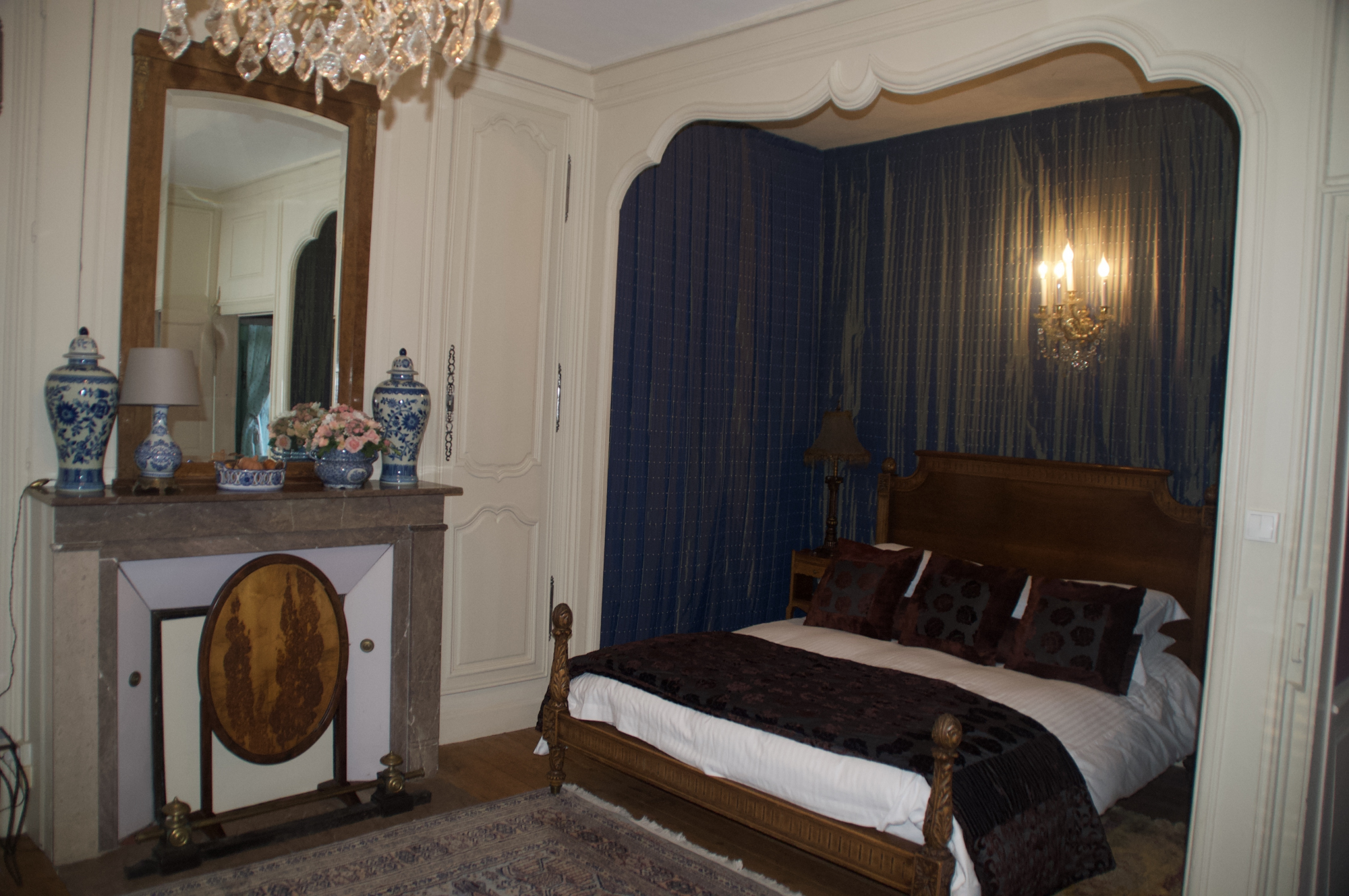 Original period antiques, blue delft pottery and original artwork are features of the Double Deluxe suite.
The deluxe double room has Persian rugs over hardwood floors and is furnished with period French antiques and modern art. Facing west on the first level, overlooking the town square, you will have a view of the ancient Corbie Abbey. This beautiful 18th-century style room features original wood panelling, a marble fireplace and luxurious bespoke velvet and satin bedding with our signature Egyptian cotton sheets. It has its own bathroom with a combined tub and shower.  
 
Check-in start time:
16:00hrs
Check-in end time:
19:00hrs
Check-out by:
11:00hrs
Junior Garden Suite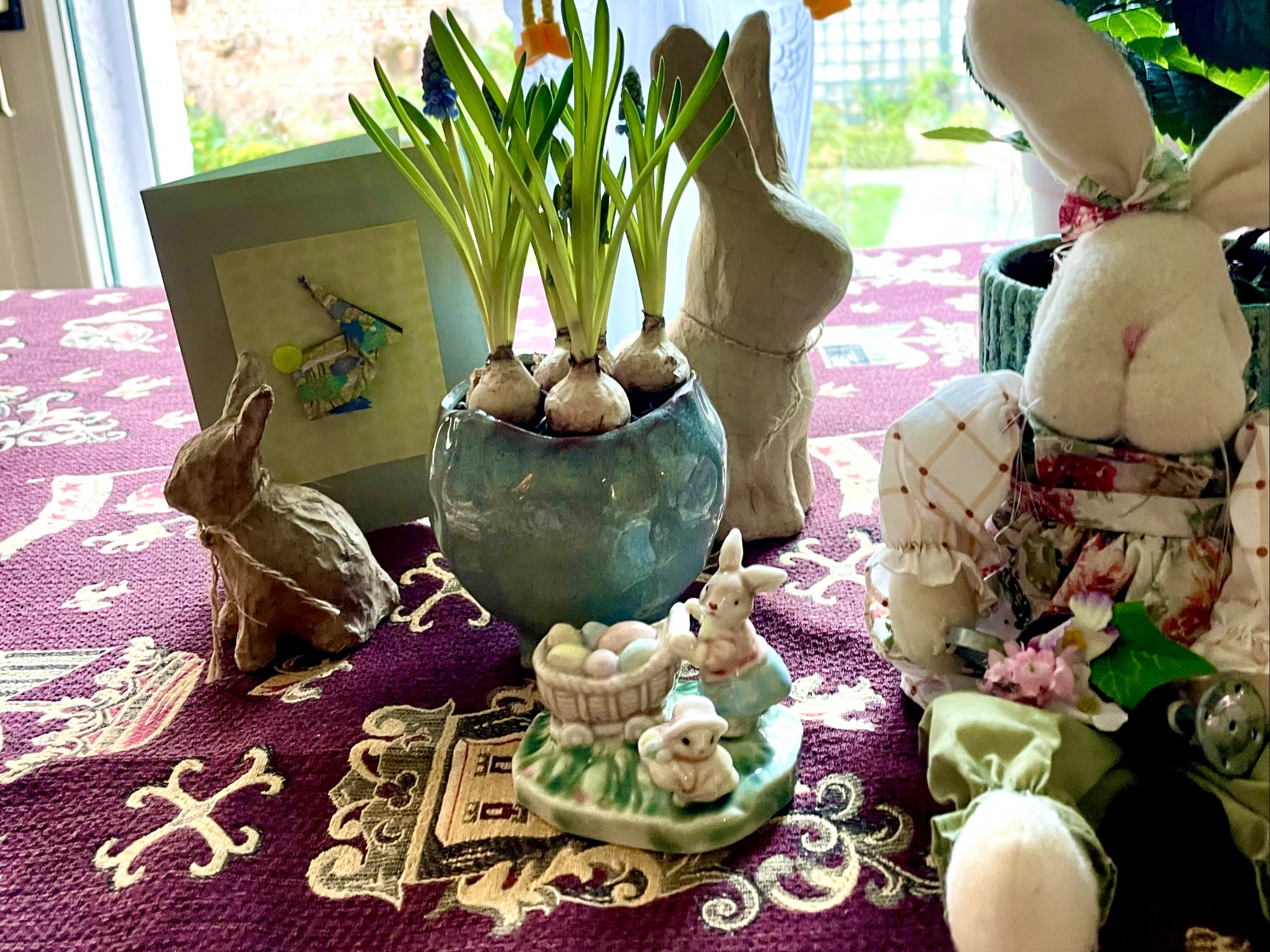 The Junior garden suite has a sleigh bed, large art deco wardrobe, dresser, desk and two large over-stuffed arm chairs
The Junior Garden Suite (36 m2), located on the first level of the main house, is a sunny, south-facing room.  There is a queen-sized sleigh bed,  art deco wardrobe, desk and a set of drawers, whilst the decorative fireplace showcases many objects of art predominantly from the art nouveau and art deco period. The suite has two Liberty London overstuffed armchairs that are perfect for relaxing after a day of sightseeing. The bathroom has a spa bath with a separate shower. This room is available from €235 a night.
Amenities
Living room
Heating
Towels
Hair dryer
Linens
Slippers
Shampoo
Toiletries
Hangers
Pets
Check-in start time:
16:00hrs
Check-in end time:
19:00hrs
Check-out by:
11:00hrs
Empire Suite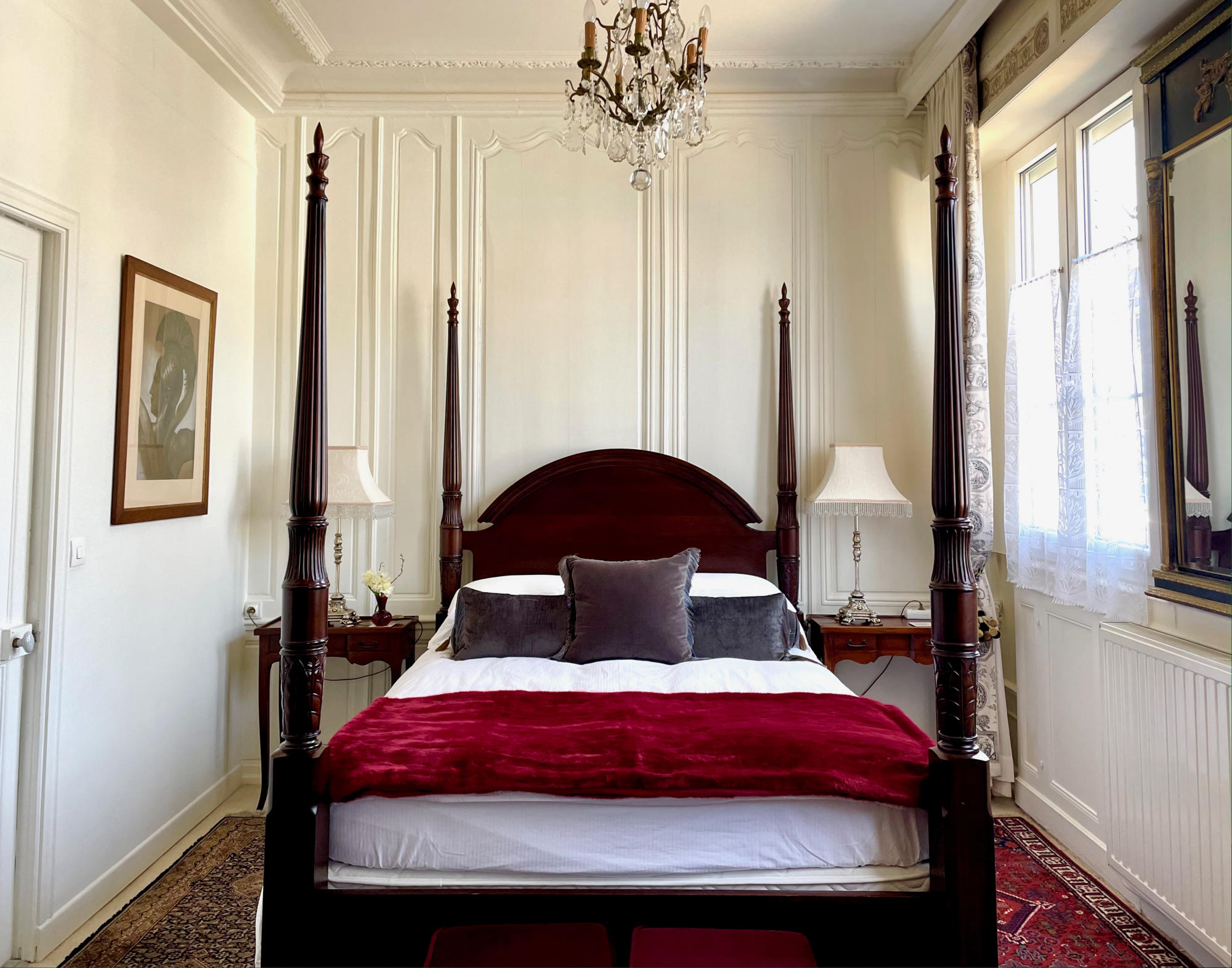 Four poster bed in the Empire suite.

The Empire Suite (47 m2) is located on the ground floor. This spacious room is decorated in monochrome toile de Jouy bespoke wallpapers and fabrics.  It showcases original artworks and antiques. This 18th-century panelled suite has a comfortable living room with a sofa and armchair, bookcases, a carved stone fireplace, a wardrobe, a pencil post bed, and lovely marble and mosaic bathroom with a separate bath and shower. The Empire suite can be accessed with a wheelchair ramp and is our only accessible guest room. This room is available from €259 a night.  
 
Le Macassar Suite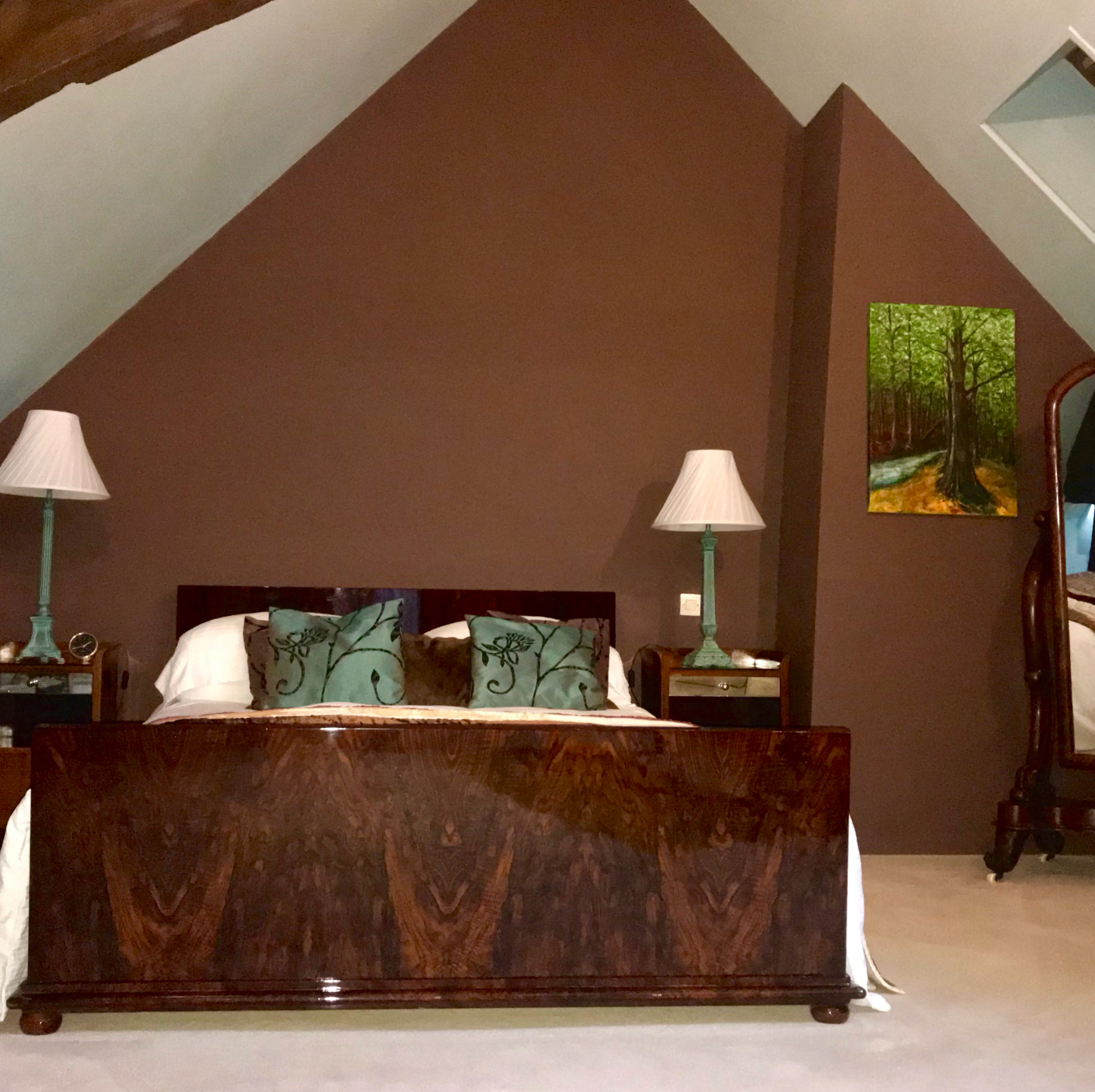 The Macassar suite bed-frame is an authentic Macassar ebony piece from the 1930's

The Macassar suite (58 m2) takes over the entire second floor of our west wing. This intimate and romantic space with vaulted ceiling, antique furniture and original artworks is highlighted with warm fabrics in tones of chocolate and teal,  while carved Moorish double doors lead into a decadent bathroom with a large soaking tub and a separate walk-in shower.  This luxurious suite has views of the private courtyard garden and the town square.  The Macassar suite is available from €259 a night.
Check-in start time:
16:00hrs
Check-in end time:
19:00hrs
Check-out by:
11:00hrs
Art Deco Suite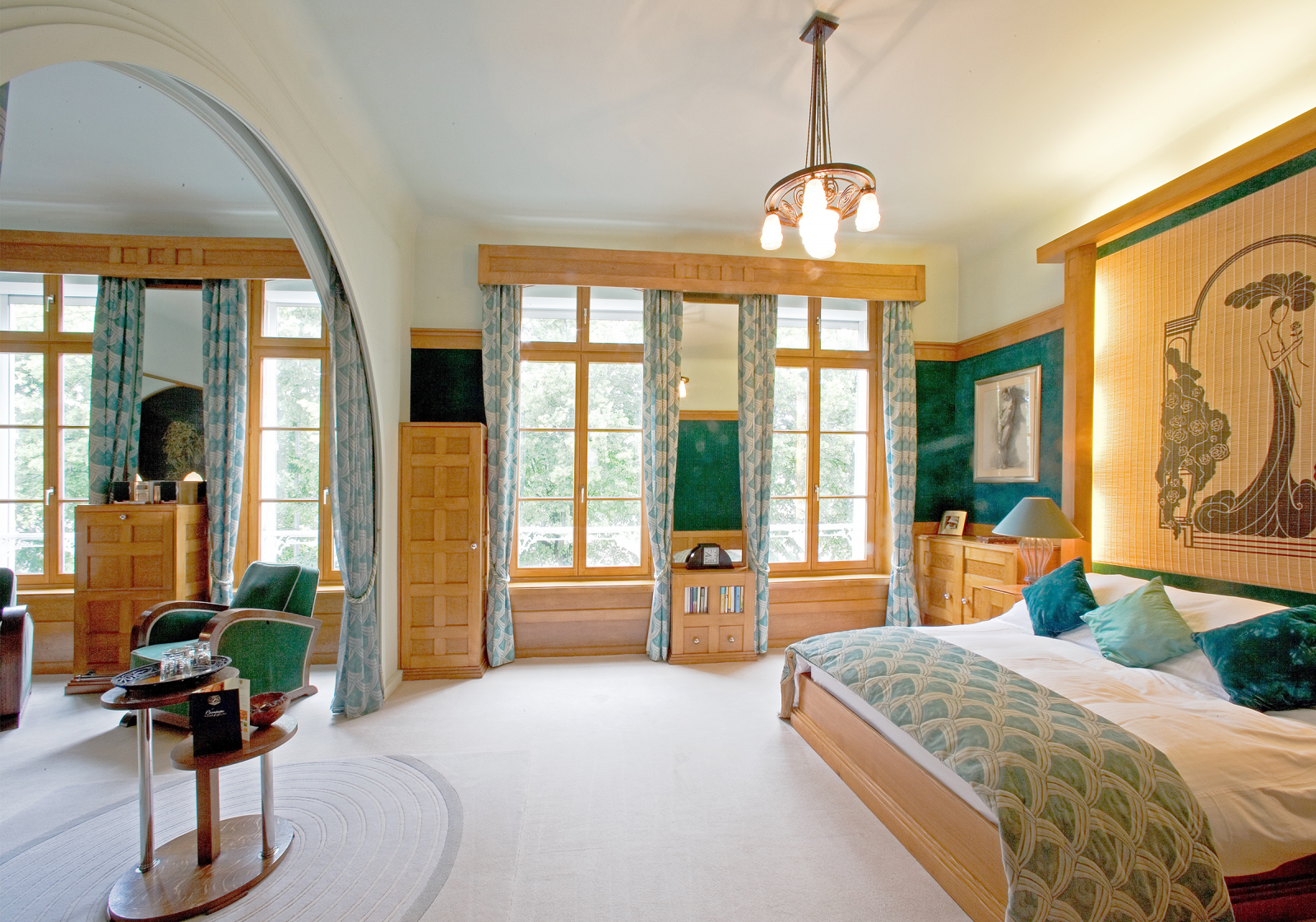 The 1920's Art Deco suite
Immerse yourself in the glamour of the 1920s!  Boasting its original sycamore and birds-eye maple panelling and furnishings, carved stone fireplace and black marble and silver mosaic bathroom, this spacious ( 70 m2 ) suite will transport you straight back to the jazz age.  The Art Deco suite has been enhanced with significant period artworks, bespoke draperies and bedding. It also has electronic shutters that darken the room and act as a sound barrier. The decadent bathroom has been sympathetically brought into the 21st century with the addition of a large whirlpool tub for two and a walk-in shower to allow for maximum enjoyment.  Your stay in the art deco suite offers a  unique, authentic experience from €325 a night.
Check-in start time:
16:00hrs
Check-in end time:
19:00hrs
Check-out by:
11:00hrs
General terms
General Policies are as follows:

Check in time is between 16:00-19:00. Please let us know if you can't arrive between those times.

Early Check-in may be available by arrangement only; there is a cost of €30 if you wish to arrive between 12pm and 16:00. If you require check-in before 12pm, you will need to book the previous night too.

Check out time is 11.00am.

Le Macassar is a NON-SMOKING house. Smoking is not permitted inside the premises.

We do not accept children under 8.

We have pets on the premises. Therefore, we do not allow guests to bring pets.

We have free parking in front of our property.

We have indoor and sheltered facilities to store bicycles inside our gated courtyard.
Rules
No Smoking
No Pets
No Parties
Cancellation
Our cancellation policy:

If you need to cancel your reservation, your deposit will be refunded less 10% for processing fees.
There is no refund of your deposit within 7 days of your scheduled arrival.
If you cancel less than 24 hours before your check-in date, you will be liable for the full room cost.